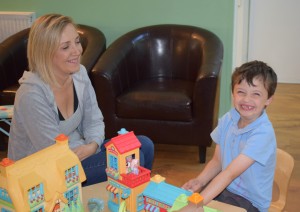 Jacob is 7 and has autism and speech and language delays, he has been coming to the Children and Family Centre with his Mum, Sarah, for the past two years.
Sarah explains why she found coming to the Centre helpful for both her and Jacob: "I discovered the Centre a couple of years ago before my son had a formal diagnosis but had many difficulties. These were very dark days for us and I felt isolated whilst struggling to help my son and was fighting my way around a system that was all new to me. The Centre was like a beacon of light. Suddenly I didn't feel like the only parent anymore, and it was great to meet other parents and children just like us. Jacob's challenging behavior still exists, but I don't feel the stress there that I would in other settings.
"Jacob has gained confidence in being around other children through attending the Children and Family Centre. He has difficulties around playing with other children, but at Independent Options he gets a lot of support with this.  Usually children will comment on Jacob's speech but that has never happened at the Centre, there is just a lovely acceptance of each other from all the children."
The Children and Family Centre provides inclusive play opportunities in a safe and welcoming environment for children with learning disabilities and additional needs. Through its wide range of groups, play sessions and SEN training courses, children can learn and play while parents can access a wide range of information and support. Both the support and the groups are tailored to the children's individual needs and ensure that numbers of those attending the groups are kept low to ensure each child gets the attention they deserve. The groups are all family based, with parents and carers joining their children for sessions.