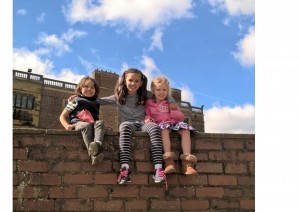 Eleanor is 10 years old and is taking on the Independent Options Climbing Challenge, which will see our intrepid climber scale a lofty 554ft – the equivalent to Manchester's tallest building, Beetham Tower!
Eleanor comes to Independent Options' Children and Family Centre along with her brother, Jamie (4), and her sister, Poppy (6), who has epilepsy, ADHD and developmental delay.
Eleanor told us what inspired her to sign up:
"My family has been going to the Children and Family Centre for four years now and originally went because my sister didn't talk much, but now she talks lots and always plays there with other children just like her.
I would like to help families like mine have fun at Independent Options, but also I enjoy climbing and I do it regularly.
Although I have never climbed at Rope Race Climbing Centre, I have done it at other places and also the climbing triangle at school. I have climbed at big heights before but never as high as Beetham Tower! So I am a bit nervous but mostly exited and I can't wait for this challenge. Now it is the holidays, it is the perfect time to get some extra practice in and get ready for this incredible challenge.
I would really like to raise £300 for Independent Options, that would be great."
If you would like to support Eleanor, visit her JustGiving page here!
Good luck, Eleanor!