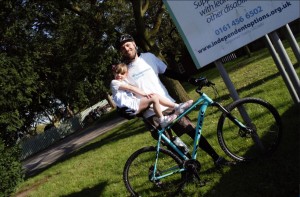 Andy is getting on his bike and training hard as he prepares to take on the Manchester to Blackpool Bike Ride in aid of Independent Options!
Andy is gearing up for the challenge, which will see him cycle a staggering 60 miles on Sunday 9th July from its starting point at the Imperial War Museum on Salford Quays, finishing up on the South Promenade in Blackpool. Andy is hoping to raise a whopping £1,000 in aid of Independent Options, where his daughter Isla (6) attends the Children and Family Centre.
Isla has autism and thrived at the Centre, where she was able to engage in a sensory-rich environment that the groups and in particular the messy play sessions afforded her. As part of Isla's autism, she had speech and language delay, but one of the first words Isla spoke was when the family was driving past the Centre and she shouted "messy play!".
Having benefited from the charity's work, Andy decided he wanted to give back to the Children and Family Centre and help it to provide the service to others. He said: "I love meeting the other children in the Centre, seeing the way the children respond to spending some time there and getting the right attention warms my heart and puts a smile on my face. To think I've had some influence on improving the centre and continuing that work would make it doubly satisfying."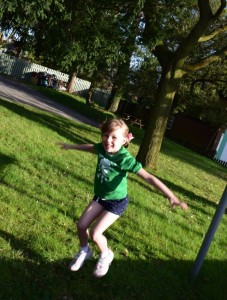 This is the first time that Andy will have braved a sponsored event, after wanting to challenge himself and raise awareness of the charity. While it may be a daunting prospect to cycle 60 miles, for Andy it would be something he would be incredibly proud of.
So far, Andy has raised over £850, and said: "It's a fantastic motivator to see the overwhelming support I've received from friends and family and I'm determined to prove myself worthy of that.
Independent Options truly helped my daughter in her development, and it gave the rest of the family a place to encourage her growth and also take a little time out. Not only has training for the bike ride forced me to change my lifestyle and become healthier, it's also a fantastic way to raise funds and awareness for such a valuable charity.
"I'm very excited to be taking on the bike ride, Isla and her big sister Merrily have even offered to join me on their scooters to Blackpool, but I'm not sure they quite understand how far 60 miles is!"
Good luck, Andy!
To sponsor Andy and help him reach his fundraising target, visit his JustGiving page at https://www.justgiving.com/fundraising/Andy-Maunder1