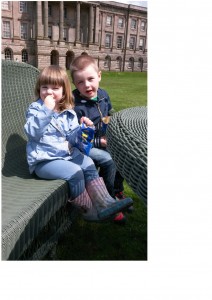 Joe initially came to Independent Options to Baby Sensory when he was around nine months old.  As Joe became older, it was clear that he had some developmental delays and he was referred for support.  Joe's speech was delayed and when he was two, we were made aware of the 'Sing and Sign' sessions at Independent Options.
There, Joe could learn songs along with the signs.  It was a really fun session; Joe really enjoyed it and his baby sister Isla could come along too.  Joe started to learn the signs to the songs and we could practice these at home.
Before long, Joe would learn a sign and he would start to say the word.  This was the beginning of his language development which quickly progressed and we are really grateful to the team for all of their support in this group.
Joe is now six and has a diagnosis of autism.  He enjoys coming to the After School Club and Boredom Busters with his sister Isla, now four.  They both enjoy playing with the toys, doing craft activities and they love to play in the garden with the other children attending the groups.
These are really valuable groups for Joe as he can let off steam after a busy school day or at the weekend when his time is less structured.  The groups provide Joe with an important routine in a place where he feels comfortable and secure.  Isla can attend the groups too and they both really look forward to seeing Sam and Julia.